Waterfall chasers rejoice! Vancouver Island is home to countless stunning waterfalls. And each one is beautifully unique! Whether you're looking to add something special to your itinerary or plan a waterfall focused adventure, this post will help you locate the best Vancouver Island waterfalls.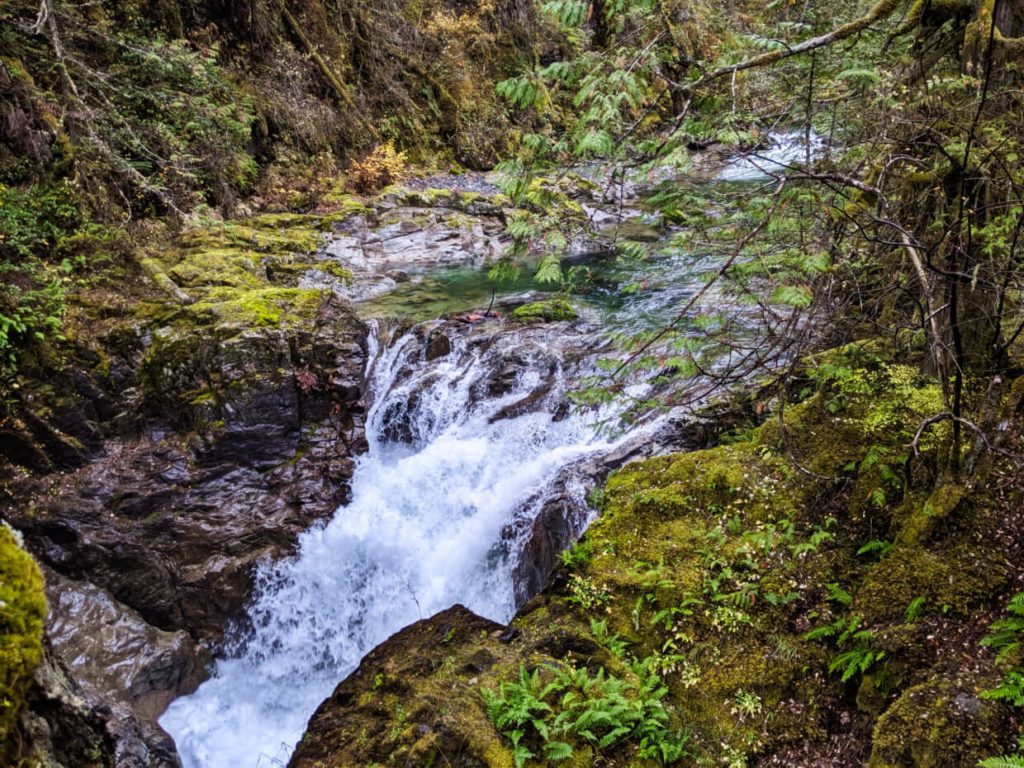 Waterfall safety
Waterfalls are spectacular to look at but caution is essential. There are hidden dangers. The following tips will help keep you safe so you can visit many more Vancouver Island waterfalls in the future!
Stay on established trails and keep back from drop-offs
Follow trail signage and respect closures
Slippery surfaces are prevalent around waterfalls – even if a rock looks dry, it probably isn't
Wear proper shoes (avoid flipflops or sandals)
Waterfalls are usually more impressive in spring or after rain but swollen rivers can cause flooding
Pools of water that seem shallow may be a lot deeper in reality
Remember that the water temperature is probably a lot cooler than you'd expect!
Swimming near waterfalls comes with additional risks such as underwater hazards, swift currents and whirlpools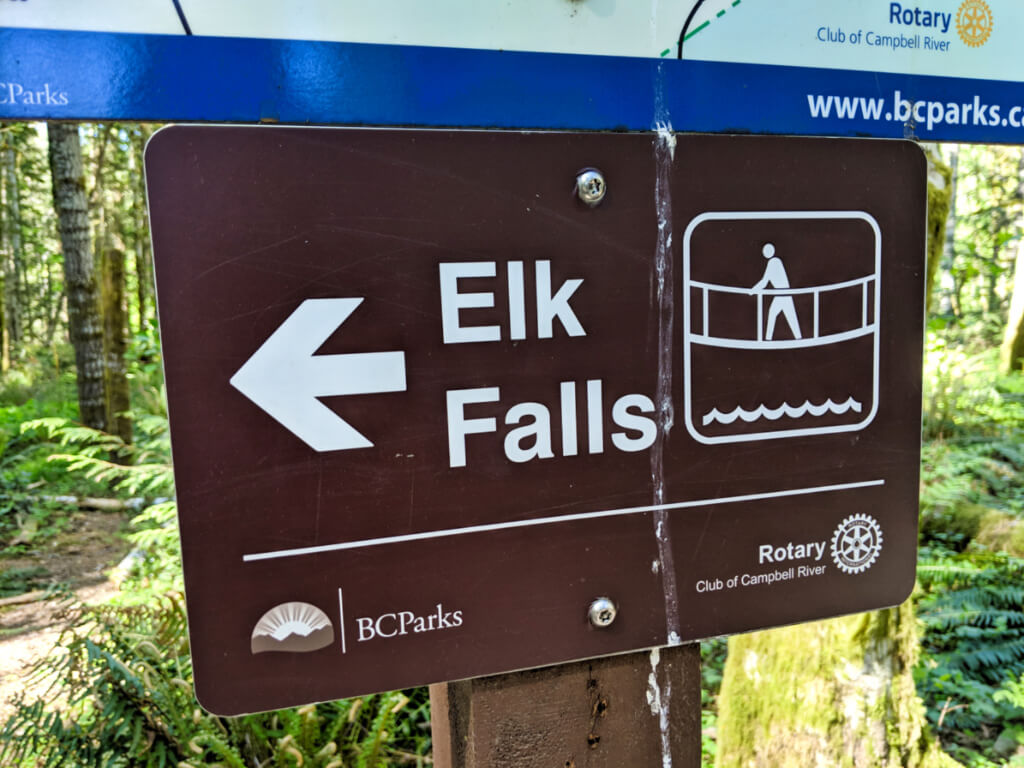 11 of the best Vancouver Island waterfalls
The following Vancouver Island waterfalls are some of my absolute favourites. I've chosen this shortlist with accessibility in mind – all but one are super easy to reach and experience. Most of these Vancouver Island waterfalls are located in provincial parks, where there are established facilities such as parking lots and outhouses.
To help preserve nature for wildlife and other visitors, be sure to Leave No Trace while exploring! More info on how to do this here
Elk Falls
Location: Elk Falls Provincial Park, near Campbell River (Mid Island)
Hike length: 1.6km round trip
What to expect: Well maintained, mostly flat path
Facilities: Outhouses at trailhead
Plunging 25m into a deep canyon, Elk Falls is definitely one of the most dramatic waterfalls on Vancouver Island. Impressive perspectives are offered from a 60m long suspension bridge, as well as a number of other viewpoints. No matter where you look, the power of the Elk Falls is immense!
The hiking trail length listed above is for the shortest route to see Elk Falls. The first viewpoint is classed as being wheelchair accessible. The suspension bridge is located down a set of stairs.
Back on the trail, an additional 1.2km (return) will take you to a viewpoint closer to the top of Elk Falls. From here, you have the choice to extend the hike further to take in some beautiful old growth Douglas fir trees (0.8km loop) or Deer Falls, further along Campbell River (1.2km).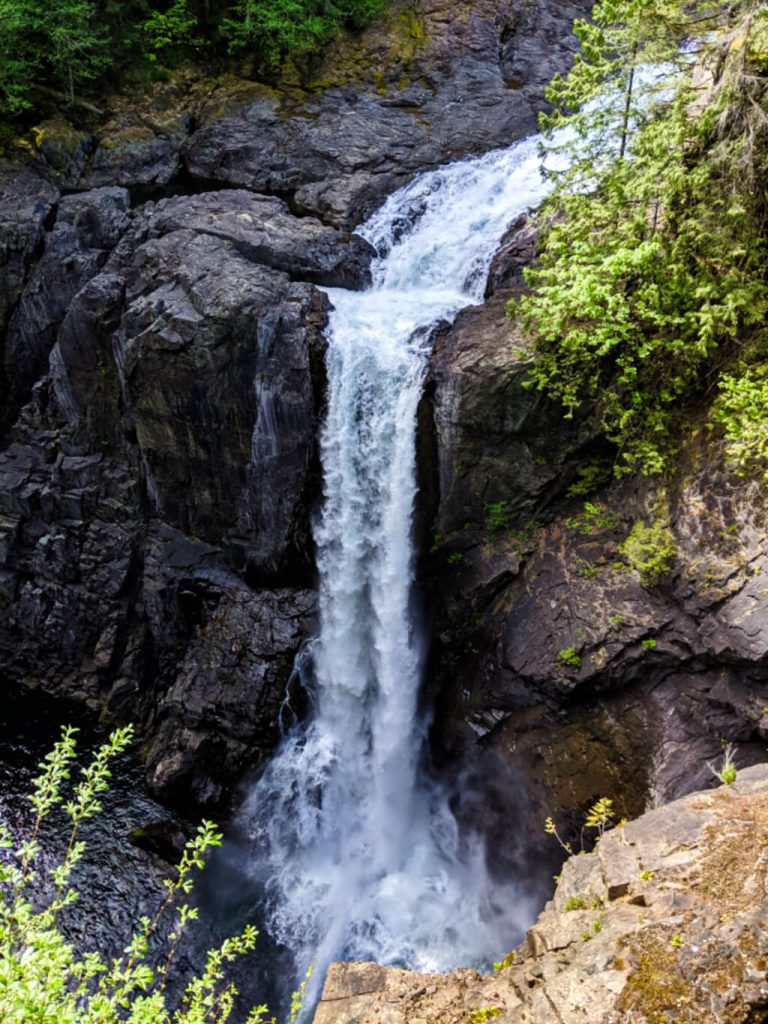 Lady Falls
Location: Strathcona Provincial Park, near Gold River (Mid Island)
Hike length: 1km return
What to expect: Well maintained path with minimal elevation
Facilities: Picnic area with outhouses at trailhead, benches along the route
Bursting out from a small slot canyon and dropping 27m onto a pile of rocks and debris below, Lady Falls is a beautiful sight to behold. Mist usually reaches as far as the elevated viewing platform, providing a welcome cool down on warm days.
The trail to Lady Falls starts right from Highway 28, making it an excellent place to stretch your legs when travelling between Gold River and Campbell River. The easy, well marked route up to the viewing platform traverses an old-growth forest of cedar, Douglas fir and hemlock.
I'd recommend visiting Lady Falls in combination with Myra Falls, below. It is about 50km away, on the bottom of Buttle Lake.
Myra Falls
Location: Strathcona-Westmin Provincial Park, next to Buttle Lake (Mid Island)
Hike length: 1km / 7km
What to expect: Well maintained trails, further details below
Facilities: Outhouses at trailhead
Though they share the same name, Upper and Lower Myra Falls offer two quite distinctive hiking experiences.
Lower Myra Falls features limestone and basalt rock terraces, punctuated with three chutes and successive turquoise pools. The finale is a drop into Buttle Lake. Two viewpoints offer different perspectives of this pristine area. The return hike is only 1km return, with one steeper section.
The Upper Myra Falls Trail is significantly longer (7km) and travels through a beautiful old growth forest. After some steady (but not strenuous) elevation gain, the reward is revealed – a 23m waterfall tumbling into a gorgeously blue basin.
Just a note, Strathcona-Westmin Provincial Park is adjacent to Strathcona Provincial Park but is technically separate. There is an active ore (zinc, silver, gold and copper) mine here, which explains the various 'No Entry' signs, checkpoints and industrial traffic. Lady Falls, in Strathcona Park proper, is about 50km away.
Nymph Falls
Location: Nymph Falls Nature Park, Courtenay (Mid Island)
Hike length: 900m return
What to expect: Flat (wheelchair accessible), well maintained trail
Facilities: Outhouse near falls
A collection of cascades over exposed bedrock, Nymph Falls is a very pretty spot. Salmon swim upstream here in October and November, with the help of fish ladders. Over winter, the water rages and is a popular spot for whitewater kayakers. As the weather warms up and the flow calms, Nymph Falls becomes a place to swim and cool down.
I admit, I have a bit of a soft spot for Nymph Falls as it was the first waterfall I ever visited on Vancouver Island. Extend your visit to Nymph Falls with a walk along the Puntledge River. There are many trails that loop back to the parking lot.
There is a dam located 5km upriver of Nymph Falls. If you hear a siren, move away from the river quickly. The siren indicates that water is about to be released, which means the river is going to get a lot faster and higher.
Little Qualicum Falls
Location: Little Qualicum Falls Provincial Park, near Coombs (Mid Island)
Hike length: 3.2km loop
What to expect: Well maintained trail with bridges, some stairs
Facilities: Outhouses at trailhead
Little Qualicum Falls is definitely not 'little' when it comes to sights! The main draw is a series of waterfalls rushing through a dramatic gorge. Bridges and elevated viewpoints help to see the action.
A network of trails follows the edge of the gorge. A 3.2km loop from the main parking area takes in both the Upper and Lower waterfalls plus numerous spectacular viewpoints of turquoise pools, roaring rapids, moss covered cliffs and more.
Little Qualicum Falls is an ideal stop when travelling between Nanaimo/Parksville and Port Alberni. There are two campgrounds here too, so you can either stay overnight if desired (most of the 96 campsites are reservable).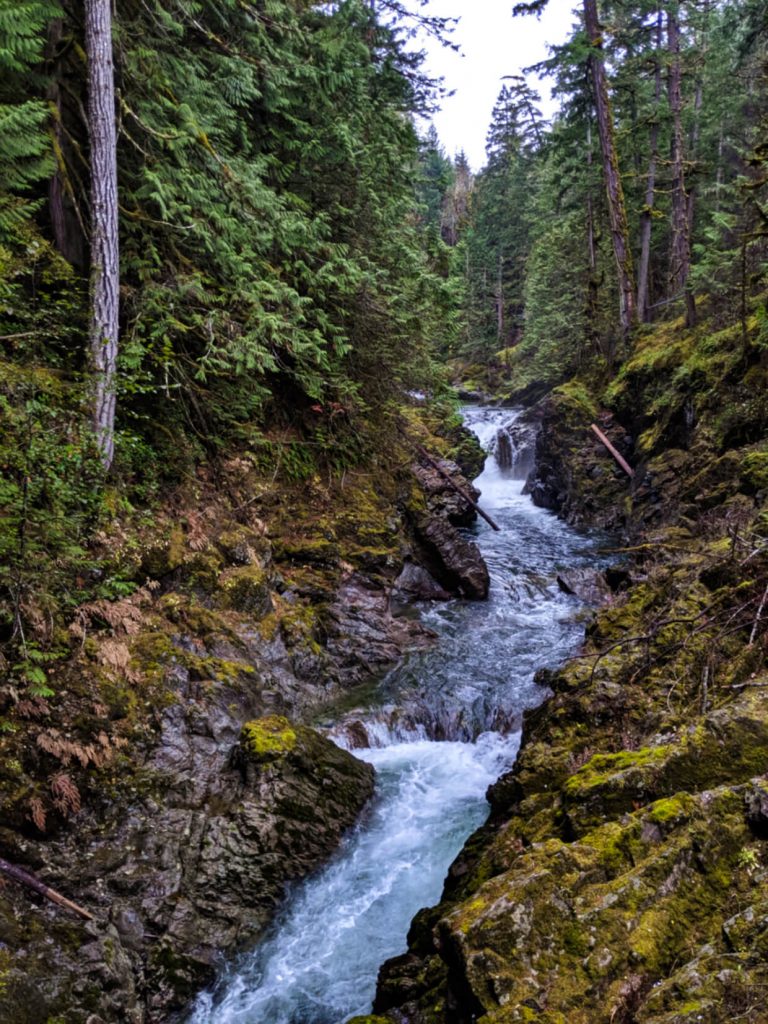 Englishman River Falls
Location: Englishman River Falls Provincial Park, Errington (Mid Island)
Hike length: 1.7km loop
What to expect: Well maintained trail with some downhill and uphill sections
Facilities: Outhouses at trailhead
Just a short walk from the Englishman River Falls parking lot (600m return) is a bridge viewpoint of the upper falls, where the river dramatically falls into a canyon. Mist rises above while the water roars below.
Continue further along and descend to discover the lower falls. Here, you get a great view of the water plunging into a crystal clear pool as well as the algae covered basin walls and overhanging trees. When water levels are low, swimming is allowed here.
Should you wish to stay overnight, there's a campground located on the way to the main parking lot. There are 102 campsites set beneath a forested canopy, with two thirds of the sites reservable in advance.
Be careful not to get this park mixed up with Englishman River Regional Park. While another beautiful place, you won't find the mentioned waterfalls there!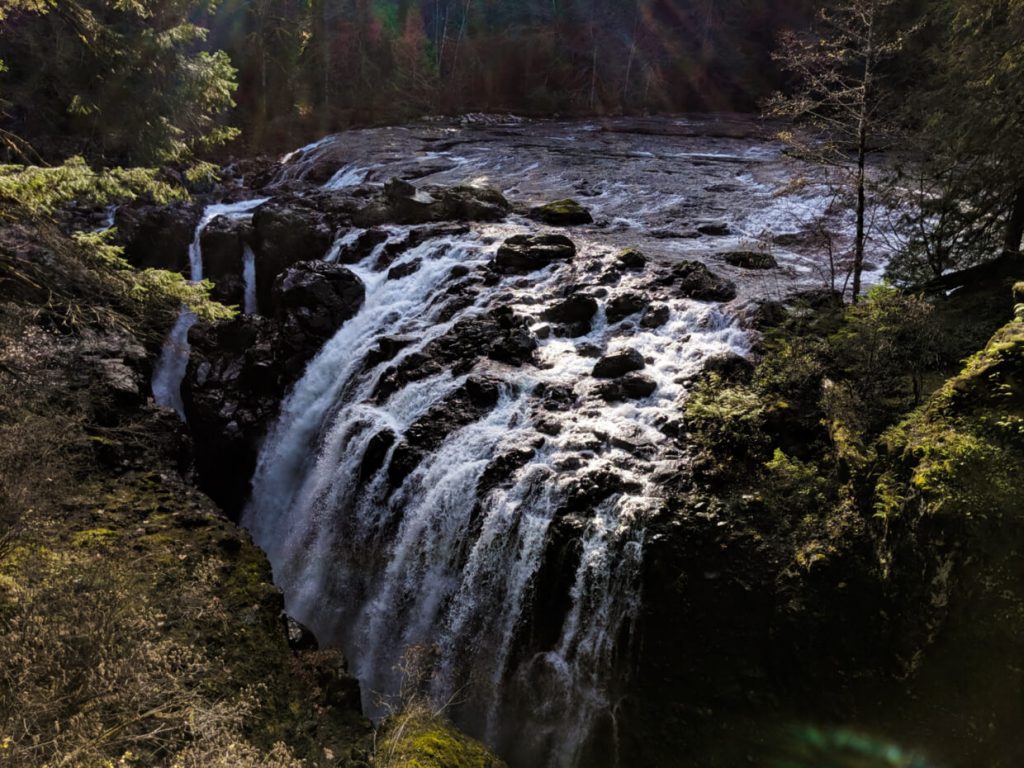 Hole-In-The-Wall
Location: Near Port Alberni (Mid Island)
Hike length: 1.5km return
What to expect: Wide but slippery, rocky trail with elevation (less than 100m total)
Facilities: None
Naturally created from the remnants of Port Alberni's old water system, some argue that the 'Hole-In-The-Wall' is not a waterfall. But there's no denying the beauty or uniqueness of this spot!
A short, rocky path leads downhill to a creekside area where a stream of water rushes out of an oval opening in the rock. Inukshuks usually line the shore and, on warm days, some hikers cool off in the creek.
The 'Hole-In-The-Wall' is accessed via a downhill path from Highway 4. There is a small, unmarked parking area* on the eastbound side of the highway, almost directly across from Coombs Country Candy. On our visit, small handmade wooden signs marked the way to the falls.
*Parking is very limited here. I'd recommend arriving early or late in the day to secure a spot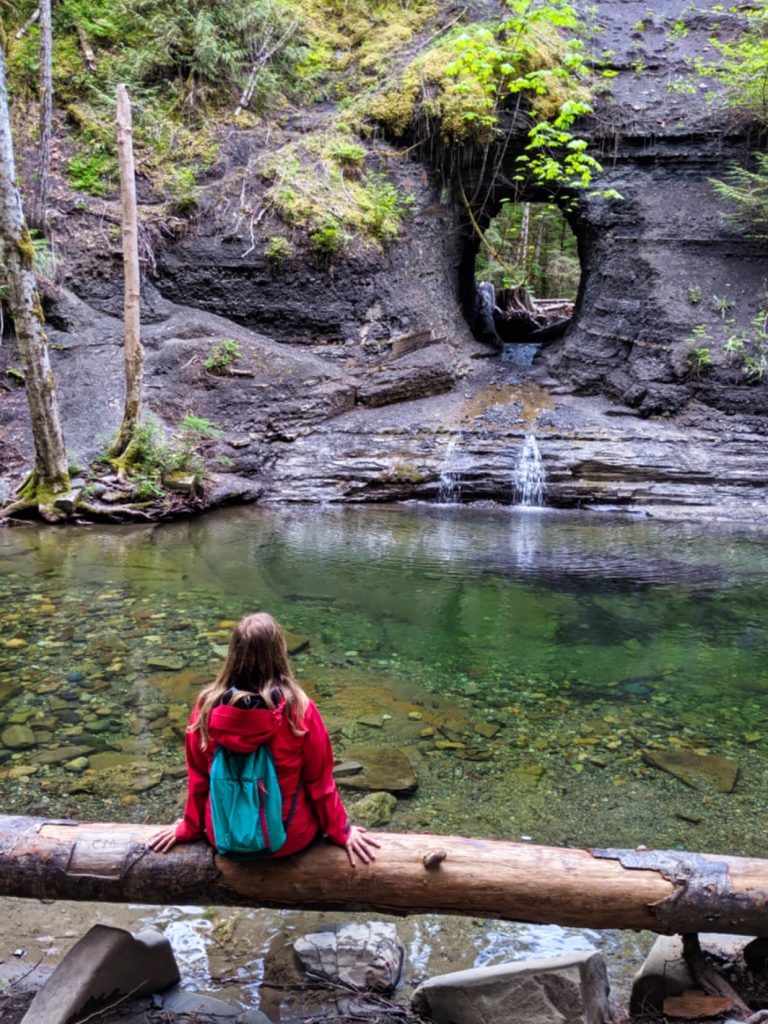 Della Falls
Location: Strathcona Provincial Park, near Great Central Lake (Mid Island)
Hike length: 16km one way
What to expect: Moderately difficult trail, with 350m elevation change
Facilities: Outhouses and bear caches at trailhead and camping areas
This waterfall is the least accessible on this shortlist but as Canada's highest waterfall, I just HAD to include it! Della Falls is an incredible 440m high and is located northwest of Port Alberni.
Getting to the base of the falls is quite an adventure, involving a boat trip across Great Central Lake and then a 16km hike through a lush valley. A cable car enables crossing of a raging gorge. The journey is worth the effort, as you'll likely have this magnificent waterfall all to yourself!
Della Falls is best explored on a 2-4 day trip. There are a number of backcountry campgrounds along the trail. For a better perspective of Della Falls, consider hiking to Love Lake (4km one way, 830m elevation gain).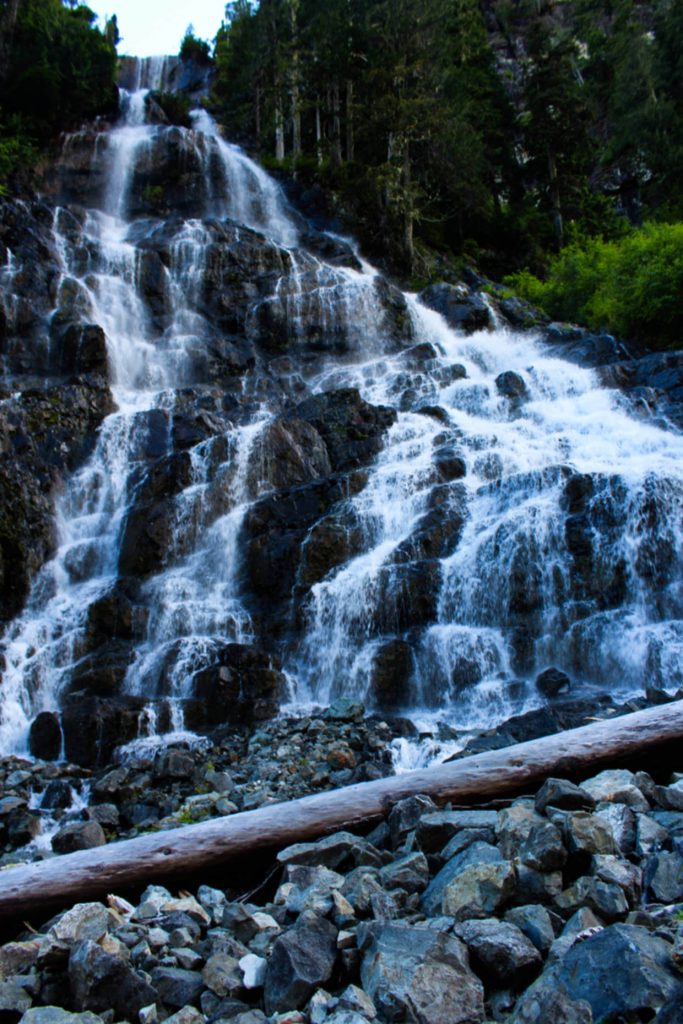 Niagara Falls
Location: Goldstream Provincial Park, near Langford (South Island)
Hike length: 1.4km round trip*
What to expect: First section is very easy and flat
Facilities: Picnic area, with outhouses, at trailhead
Yes, Vancouver Island has its own Niagara Falls! It may not be quite as famous but this Niagara Falls is still pretty majestic. The tall (47m) and skinny stream of water falls into a rocky river bed, surrounded by mossy canyon walls. Despite being so close to Highway 19, it feels surprisingly secluded here.
There are two ways to access Goldstream's Niagara Falls. *The first is from the Goldstream Provincial Park Day Use Area. Head towards the Visitor Centre until a tunnel appears to the left.
In spring, this tunnel route can be very muddy or even inaccessible. The second, alternative route is shorter and accessed on the southbound side of the highway. There's a gravel parking area gravel approx. 1km north of the Day Use – it is, however, necessary to continue for 5km to turn around safely.
Mystic Beach
Location: Juan de Fuca Provincial Park, near Jordan River (South Island)
Hike length: 3.8km return
What to expect: Steady descent to beach, rooty and muddy in places, stairs
Facilities: Outhouses at trailhead
This spectacular beach definitely has a mystical touch! The waterfall in question bursts from rocky cliffs right into the sand. Or, straight into the ocean if the tide is up. Have a go on the rope swing or check out the small caves on the other (western) side of the beach.
The hike down to Mystic Beach features a fun suspension bridge over a creek. The sounds of the ocean waves start to filter through the thick forest as you descend towards the beach.
Mystic Beach is the first (or last) of many on the Juan de Fuca Marine Trail, a 47km multi-day hiking adventure.
The trailhead for this Vancouver Island waterfall is accessible from the China Beach Day Use parking lot, not the China Beach Campground. The Day Use turn-off is 1.5km after the campground when driving northbound.
Hidden Falls
Location: Sombrio Beach, Juan de Fuca Provincial Park, near Jordan River (South Island)
Hike length: 3km return
What to expect: Short, steady downhill to start, wet and rocky conditions on beach
Facilities: Outhouses at trailhead and behind beach
Another beach waterfall along the Juan de Fuca coast but with a twist. Hidden in a narrow canyon just beyond the beach, this waterfall takes a little more effort to find.
To locate this one of a kind waterfall, first walk down to Sombrio beach. This takes only 15-20 minutes and is very easy (stay left at the divide). At the pebble beach, follow the shore to the left.
After approx 900, a creek flows out of the trees towards the ocean. Follow the water and you'll find the entrance to the canyon. It is usually very wet and slippery here so waterproof shoes are a must. Just a few metres in, the vertical drop of the hidden waterfall appears.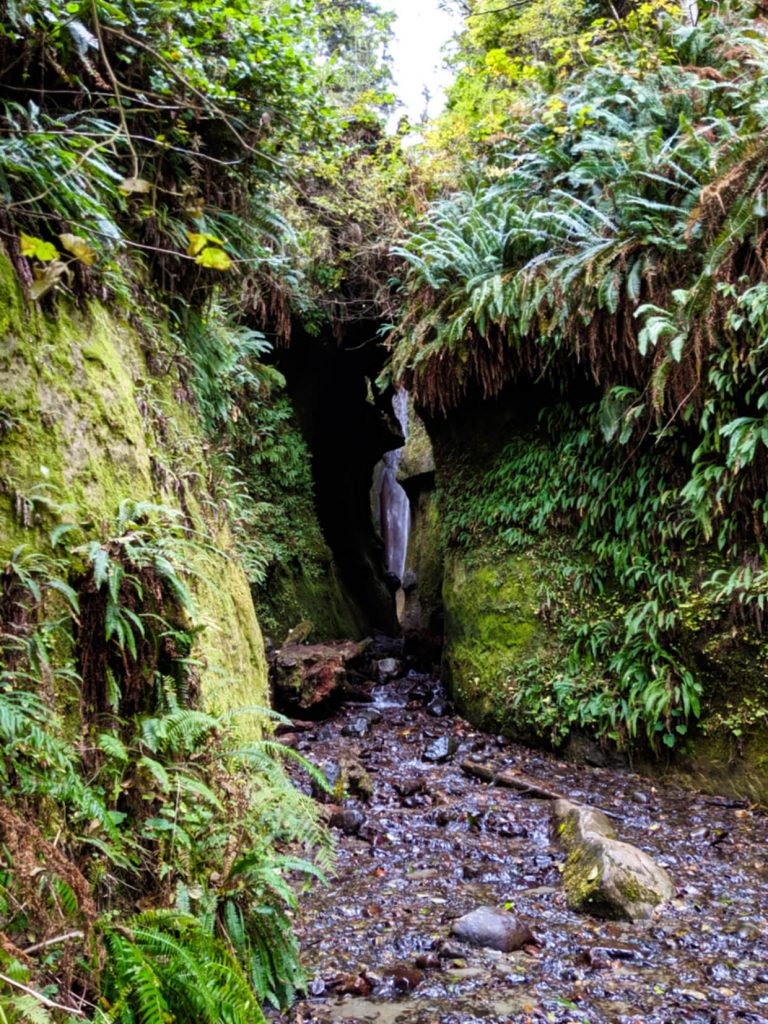 More Vancouver Island waterfalls to discover
If you're a Vancouver Island local or a regular visitor, you'll probably love this list! Most of these Vancouver Island waterfalls are a little more off the beaten track than those mentioned above, with the majority located outside of national/provincial parks.
This does mean that the corresponding hiking trails may not be maintained regularly and fewer facilities are available. But there are less crowds too. Please be careful to Leave No Trace and respect private property to ensure that access to these beautiful places remains open.
Eternal Fountain, Port Alice (North Island) – Appears from a ledge and then disappears into a cave below
Lupin Falls, Strathcona Provincial Park (Mid Island) – Tall, thin falls set in deep forest near Buttle Lake
Karst Creek, Strathcona Provincial Park (Mid Island) – Plunging waterfall in limestone area, disappears underground
Trent River, Royston (Mid Island) – Wide fan waterfall with deep pool, spawning salmon in autumn
Rosewall Creek Falls, Bowser (Mid Island) – Rooty trail leading to rocky cascades
Triple Falls, Errington (Mid Island) – Three sets of falls with large pools
Ammonite Falls, Nanaimo (Mid Island) – Vertical cascade over a sheet of rock filled with fossils
Bowen Park Falls, Nanaimo (Mid Island) – Two easily accessible waterfalls in the heart of Nanaimo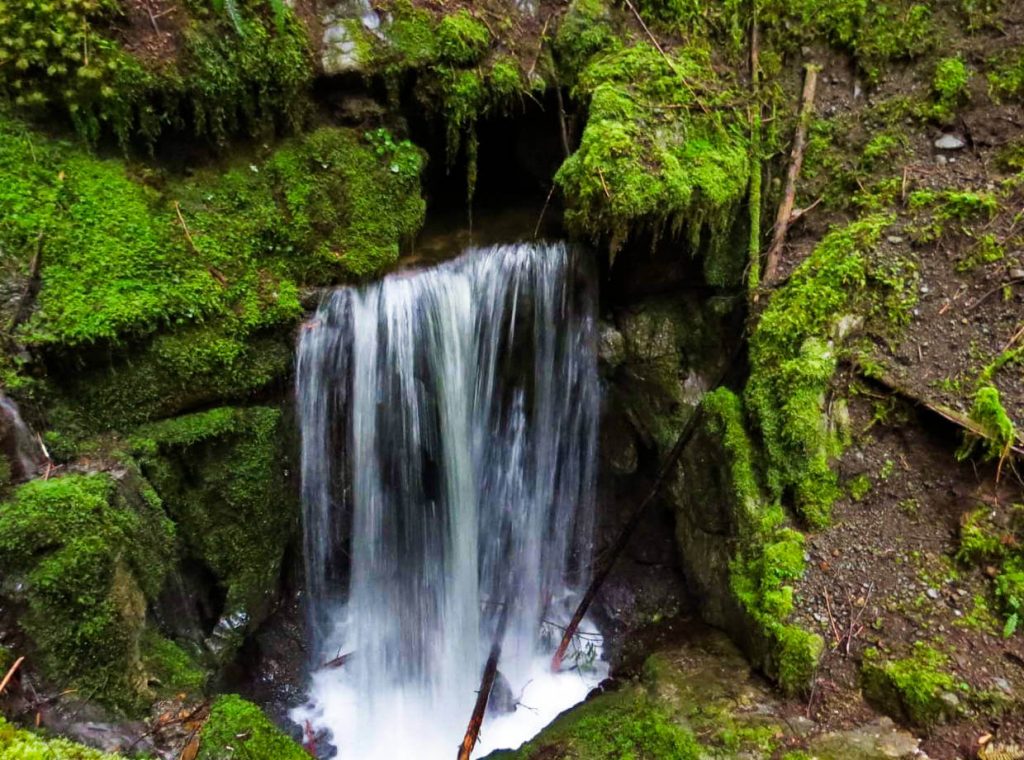 Granny Falls, Nanaimo (Mid Island) – Layered drop waterfall, also known as Chase River Falls
Christie Falls, Ladysmith (Mid Island) – Large meandering cascade accessed by numerous routes
Kitsuksis Creek Falls, Port Alberni (Mid Island) – Small yet beautiful falls in urban location
Fossli Park Falls, Port Alberni (Mid Island) – Moss lined river with small cascades and rapids
Stamp Falls, Port Alberni (Mid Island) – Rushing cascades on bedrock, spawning salmon in autumn
Weiner Falls, Port Alberni (Mid Island) – Multi-layered falls in a pretty grotto-like basin
Stocking Creek Falls, Ladysmith (Mid Island) – Vertical drop from rock platform with maple trees
Tsusiat Falls, West Coast Trail (West Coast) – These wide, cascading falls are a highlight of the world famous 75km West Coast Trail
Sandcut Beach, Jordan River (South Island) – Pair of waterfalls flowing directly onto pebbly ocean beach
Latest posts: